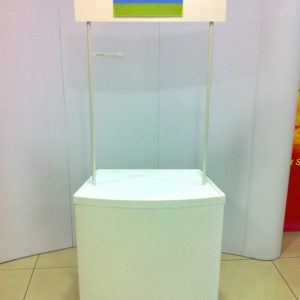 Material Size : 470mm(W) x 820mm(L) x 2.25m (H) .
Light in weight compare with other promotion counter – Plastic
Easy to setup and dismantle.
Suitable for new product launching exhibition .
Printed graphic on white sticker would be the suitable to be used on the outlay of it.
Can be reuse by simply replacing the graphics .
** Price mentioned are Excluding Printing Charges
The following sizes are for the Sticker Printing
(H) x (L)________
Top : 280mm x 770mm
Front : 810mm x 822mm
Side (Left & Right) : 810mm x 415mm (2pcs)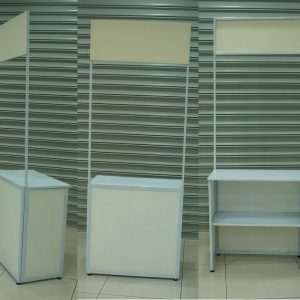 Material Size: 380mm (W) X 760mm (L) x 1.9m (H).
Easy to assemble & dismantle.
Lightweight & easy to carry – metal
Can be used for promotion counter in the supermarket or special event for launching product.
Can have personal designed graphic on Promotion Counter by stick the printed graphic sticker on the panel.
** Price mentioned are Excluding Printing Charges
The following sizes are for the Sticker Printing
(H) x (L)________
Top : 270mm x 728mm
Front : 708mm x 720mm
Side (Left & Right) : 708mm x 320mm (2pcs)